25 October 2023

The latest patient discharged from Sasha's Teddy Bear Hospital, Nuffy the Dog, had been much loved by his owner for nearly 30 years, and was in turn always a source of comfort to her. Having accompanied her on many travels, Nuffy was beginning to feel rather flat, and his fur was getting very matted. After I gave him plenty of stuffing and a good clean, he perked up again in no time.

It was a similar story with 33-year-old Teddy, who had always been a very important part of his owner's life. Over the years, his head started to droop, and his fur lost its softness. A course of treatment brought him back to full fitness, much to his owner's delight.
20 October

Though not very old, Tommy the Leopard came to Sasha's Teddy Bear Hospital in need of serious treatment. Always by his adoring owner's side, after 27 years of cuddling he was in danger of falling to pieces. I stitched him up, gave him new stuffing, and completely rebuilt his tail. Tommy was very grateful, and so was his owner.

The oldest of my recent patients, a 60-something traditional Teddy, had unusually retained most of his hair and both eyes, but lost nearly all the stuffing in his body and arms, and his neck joint was getting pretty loose. He had also lost his voice, so I gave him a new growler, and patched him up throughout. After treatment, Teddy looked practically as good as new!
16 October


When this 50-year-old Chad Valley bear called Skoffy came to

Sasha's Teddy Bear Hospital, he was not at his best.

Though much loved for all his life, he had a couple of stab wounds in his chest, inflicted many years back by his owner's brother.

Skoffy's nose was somewhat flat from years of hugging, and he was getting rather short of stuffing too.

Once I have given him a good clean and plenty of new stuffing, I tended to his wounds, so he was full of life again when he rejoined his happy owner.

12 October


Three more bears have been discharged from Sasha's Teddy Bear Hospital following successful treatment.

The first Teddy was brought to me by his 11-year-old owner, who had got him from his great-grandmother (her husband had won it in skiing competition in Switzerland!) The boy had to make sure I was the kind of person who could take good care of the Teddy. I am proud to say I passed the test)) I repaired Teddy's bow tie and made him a fur vest to keep him warm.

Another Teddy, a 65-year-old Schuko yes/no bear, received new footpads, which he liked so much that he did not mind me mending some small holes in his fur and brushing him.

Johnny was the oldest of the three, and by far the most difficult case. I made him a new arm and performed reconstructive surgery on his nose, not to mention many more minor operations. When he saw himself in the mirror after treatment, Johnny was really impressed with how well he looked!
6 October

You may have heard that The Walt Disney Company is celebrating its 100th anniversary this month.

By sheer coincidence, I have just had a patient who has a close connection to Disney.

Lion was presented by Disney to a world famous actor who had voiced a certain character in

The Lion King

!
For the avoidance of misunderstanding, I hasten to add that it was not the actor in question who brought Lion to

the Hospital.

Though still magnificent, Lion had lost a bit of weight over the years, and both his fur and his mane were not as lustrous as they once were.

Though not the largest patient I have ever had, Lion came pretty close, so replacing his original stuffing with more modern and safer polyfill was quite a task.

Cleaning and brushing him also took some time, and all the while Lion ensconced himself on our sofa, daring anyone else to share it with him.

All is well that ends well though, and I am happy to say that Lion's present owner was quite pleased with the way he turned out.


30 September

I have just had a cat and a dog as patients at Sasha's Teddy Bear Hospital, and they got on fine while they were here))

Jessie the Cat looked poorly when admitted, but all she really needed was a good gentle clean and some new stuffing. After a short course of treatment, she was playful and frisky as a young kitten again!

Bobby the Dog, who is quite a bit older, required a lot more care. I gave him a new eye, re-embroidered his lost smile, mended all the holes in his fur, and completely re-stuffed him. Bobby seemed very pleased with all this, and his owner was just as happy.
28 September

Earlier this year, a returning customer asked me to make two Teddies for her twins out of their baby clothes that she had kept. We chose the size and the models, and after she brought me the clothes I played quite a bit with all the fabrics. To be honest, I lost count of how many different ones I ended up using))

As you can see, the boy and the girl are similar (I used the same pattern for both) yet they clearly have different personalities. They seem to be getting along very well, showing a lot of affection for each other.


27 September

I had three patients at Sasha's Teddy Bear Hospital in the last few days. They were all bears, yet they could hardly be more different.

Trevor, a multicoloured toy Teddy, had been with his owner all her life, and had a lost nearly the entire red part of his costume. The owner's boyfriend found and sent me a suitable replacement fabric, so Trevor was whole again and full of life by the time he left hospital.

The white Teddy called Bi the Bear had travelled extensively with his owners, and had lost a lot of stuffing and nearly lost his tail. Once I reattached his tail, gave him plenty more stuffing and a good clean, he perked up and was ready for new adventures (though he will probably now need some new t-shirts in a larger size).

My third patient was a large traditional Teddy at least 60 years old, inherited by his owner from her grandmother. Though remarkably well preserved for his age, he had a couple of bad wounds on his neck and forehead and a few smaller holes. When he was back home after treatment, his owner said he would be treasured for another three generations!
19 September


Earlier this year, a returning customer asked me to make her a Memory Bear out of some clothes that her late mother used to wear.

She chose a model from my website and sent me a nice navy floral dress and pink pjs. I decided to use the latter for the bear's paw pads and bow.

I also made use of some buttons from the dress, as well as its sash, which became the Bear's necktie.

One last detail was the insides of the Bear's ears, which I made out of the plain navy pockets of the dress.

18 September

In the last few days,Sasha's Teddy Bear Hospital has had a couple of big cats among its patients (though it would probably be more accurate to describe them as little big cats in this instance).

Tigger only really needed a hole mended on his back. While he was here, however, he also agreed to have a good bath (Tiggers can be a bit wary of baths as we know).

Leo the Leopard came with some serious injuries, having lost his nose and one eye in a dog attack. Fortunately, his owner had retrieved them from the assailant, so I was able to put them back for Leo.

The feline monopoly was broken up by New Ted, who was very grateful to have the wound on his neck treated, as well as getting some new stuffing.
16 September


56-year old Ted, a Chad Valley bear, came to the Hospital in a rather bedraggled state, having been much loved and cuddled for all his life.

His paw pads were tatty, he had many holes, had lost some stuffing and more or less lost his nose and smile too.

He still had good eyes though, and - amazingly - the squeaker in his tummy was still working fine. It was a most ingenious rubber one, the likes of which I had not seen before (see the photo on the right).

After a good clean and an intensive course of reconstructive and cosmetic surgery, Ted was full of life and smiling again. His owner says she shed a little tear of joy when she saw his first post-op photo.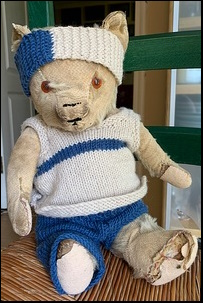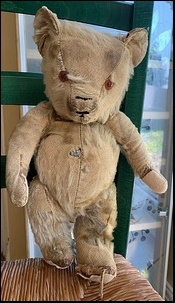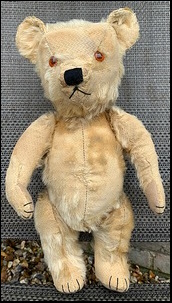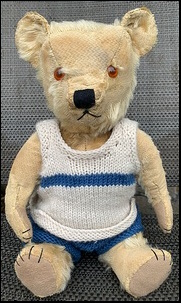 12 September

A variety of species were treated at Sasha's Teddy Bear Hospital in August and September.

They included a Monkey with a scuffed nose, who had lost his smile; a sad bunny called Arjun Arjun, who had lost a limb and a lot of stuffing; and two disparate members of the Fur family - Furry Dog, who had plenty of holes in him, and Furry Ted, who just needed a bit of plumping up.

I suspect he checked himself into hospital just so that Dog did not feel lonely)